For those who still see Sao Paulo as the "city of skyscrapers with no architectural personality," be aware that the MASP Museum (Art Museum of Sao Paulo) just joined the Condé Nast Traveler list of the 10 most beautiful buildings in the world!!!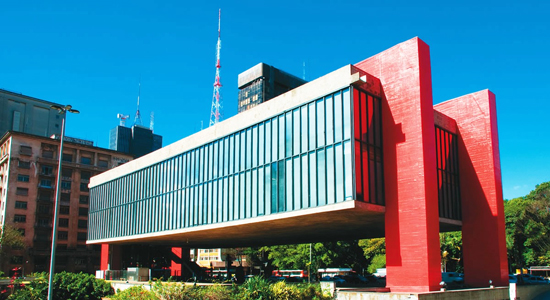 It's not rare, for city locals, to pass by the Paulista Avenue and not even notice the boldness of this modernist building which is the authentic portrait of the city: four red beams supporting an almost suspended concrete block, under an exceptional urban landscape. Some people like it, others not that much, but the impact caused by the building is undeniable!
MASP was projected by famous Brazilian/Italian architect Lina Bo Bardi in 1947, with the concept of creating an artistic platform (shaped as a container), and has become one of the most important museums in the Southern Hemisphere, with a very impressive collection of more than eight thousand pieces including renowned names in national and international painting, such as Van Gogh, Cândido Portinari, Anita Malfatti, Renoir, Rembrandt, Degas, Velázquez, Goya just to mention a few.
There's nothing better than feeding the soul with remarkable experiences, so, whenever you're in town, don't miss the opportunity to feel like a real paulista, by walking around MASP and checking out all the cool events and expos happening there every month, such as the awesome retrospective of 200 years of French Art (From Delacroix to Cézanne) which is happening until October.
A privilege that should not be missed! 🙂