We always ask ourselves – what are the best hotel rooms in Brazil? The answer is not easy, since preference and style is a very persona subject. Taking that into account, we selected 5 rooms around the country that are undoubtedly amazing, with lots of space, breathtaking views, and awarded design. You won't even miss your home pillows while staying in one of these…
Kenoa – This Eco-resort is located at Barra de São Miguel, 30km from Maceió, the capital of Alagoas State. It´s hard to choose between so many incredible rooms at this resort, but their best suite is the must – it has a heated infinity pool, an external deck that leads to the beach and a 200m² private area.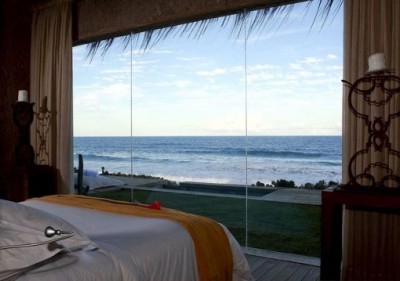 Fasano Rio – Since its opening, Fasano is amongst the most sophisticated hotels in the country. Its Deluxe Suite was designed by Philippe Starck and has a cozy living room, a bar with a Nespresso machine and bathroom with natural lightening. The highlight is the amazing view to Ipanema Beach and very spacious balcony overlooking the sea.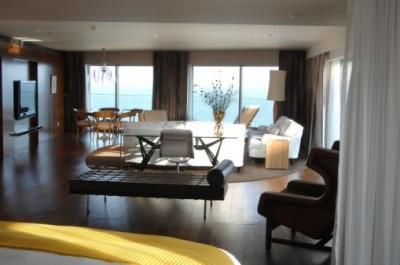 Santa Teresa – Big windows with amazing panoramic views of the "Marvelous City" are one of the highlights of this boutique hotel. The Loft suite was awarded by the Wallpaper* Magazine in 2010 as the "World Best Suite Design". The balcony faces the Petrópolis and Teresópolis mountains and the Guanabara Bay and Christ the Redeemer can be seen from the large window.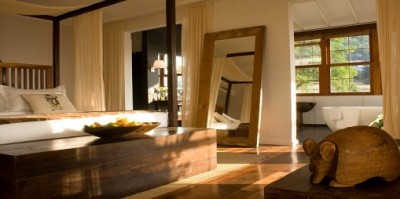 Ponta dos Ganchos – Located next to the Florianópolis Island in Santa Catarina, this is definitely one of the most charming beach hotels in the country. All bungalows are in an amazing settings, but the Special Bungalow at Vila Esmeralda deserves a special mention – with 300m² it houses a sauna, swimming pool and gym, with great views to the sea, as you can see in the picture!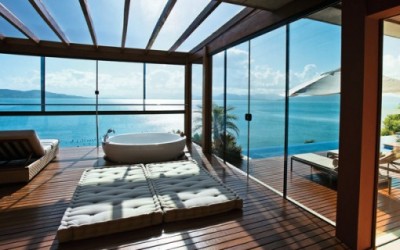 Unique – The name says it all. This "watermelon shaped" hotel, designed by Ruy Ohtake, is considered one of São Paulo´s icons. It´s outrageous style is reflected outside and inside the hotel rooms. The presidential suite has 312m², with a Jacuzzi on the terrace, a kitchen and an office, all decorated by the Campana brothres.