It has been 190 years since D. Pedro I, prince of Portugal shouted by the Ipiranga River "Independence or Death", the mark of the Brazilian Independency that is celebrated every 7th of September all around the country.
Brazil had been a colony of Portugal since 1500 when the first Portuguese arrived on these lands. From there on, the Portuguese started to populate our lands and take advantage of our beautiful tropical weather and natural beauty to produce sugar cane and other goodies. By 1808, when we already had lots of African slaves and not as many Indians as we used to have, the Portuguese crown transferred the seat of government from Lisbon to Rio de Janeiro, fleeing Napoleon´s army. That was when our dear Prince Pedro, son of the King Don João, arrived in our country and fell in love with all this heat that we have here. In 1815, the King declared Brazil a kingdom, equal with Portugal.
By 1820 a political revolution erupted in Portugal, and the Royal Family had to return. Of course that the Prince wanted to stay, and even after the demand of the Portuguese Assembly for his return and for the return of Brazil to its former condition of colony, he stayed. Finally, in 1822 Don Pedro shouted the cry of the independency, becoming the Emperor of Brazil.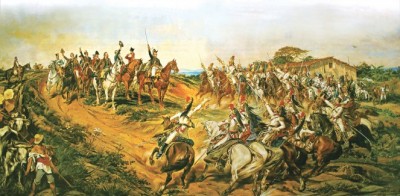 If you wish to learn more about our history, we recommend the book: A Concise History of Brazil – FAUSTO, Boris – Cambridge University Press, 1999, that gives a good overview of our history from the colony period to the first decades of the twentieth century.
There is also a great Brazilian movie from 1995, called Carlota Joaquina, that tells the story of the Queen, mother of Prince Pedro. The movie is about her life, but it's a great (and very fun) motion picture of Brazil while the Royal Family was around here.
[youtube]http://www.youtube.com/watch?v=z_TrZewCgS8[/youtube]