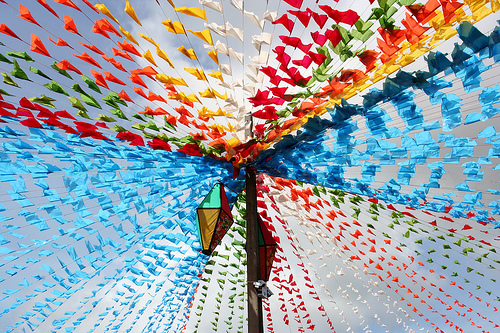 We just love the month of June… It's quite chilly in the southern cities of the country, but we just don´t care, since there is a lot of party going on! June is the month of three of the most important catholic saints: Sain João, Sain Pedro and Saint Antonio, and as we are a mostly catholic country, we love throwing them great birthday parties!
We call this parties Festa Junina, or Festa de São João. They came as a Portugal tradition and has adapted to the Brazilian culture and according to each region of the country along the years. Although they are a catholic tradition, you won't feel like in a religious event in the case you have the chance to go to one.
They take place all long the month of June and are celebrated nationwide, but the semi-arid hinterlands of Northeast Region is known as the best places to celebrate it– in some places, it is as big as carnival. This festivity celebrates the rural lifestyle, and people dresses like the caipiras, how we call farm people. Men dress up with large straw hats and women wear pigtails, freckles, painted gap teeth and red-checkered dresses, all in a loving tribute to the origins of Brazilian country music.
The traditional dance is the quadrilha that features couple formations around a mock wedding whose bride and groom are the central attraction. There are also many regional dishes and sweets, many of them made of corn.
Think of if next time you are travelling to Brazil – no matter where you chose to visit, if you came in the month of June, you will for sure have the opportunity to have a little taste of it!