Of the many misconceptions associated with the Amazon perhaps the most misleading is the idea that visiting the jungle is inevitably a basic, raw experience; heavy on the adventure but light on the home comforts.
While that is certainly still true for intrepid explorers, what many visitors don't realise is that travel infrastructure and services are increasingly catering for the higher-end market too, particularly with the growth of private yacht charters.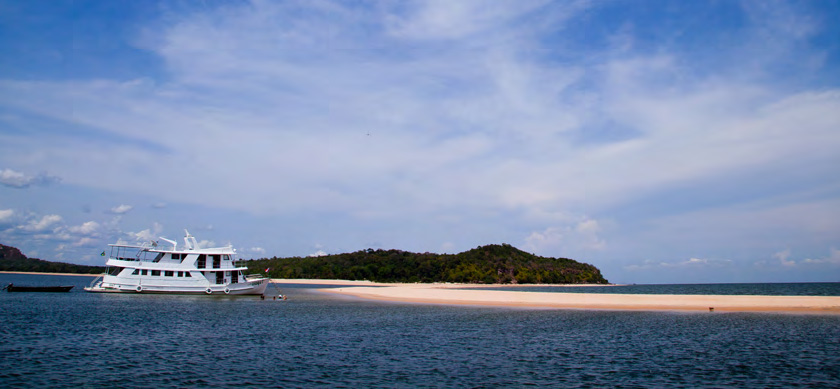 This is by far the most exclusive way of touring the rainforest, and it comes with a price tag to match. But the advantages are two-fold: not only can you cruise in the height of style and luxury, you're also buying the freedom and flexibility to set your own pace and tailor a unique journey to your exact preferences.
This makes it possible to visit regions that few others venture into, charting a course far beyond the areas most commonly visited by other group tours and excursions. Not only is this a bonus for improved wildlife spotting but it also creates more authentic cultural interactions as you visit riverside communities that are not impacted by regular tourism.
In the relatively busy region around Manaus and Rio Negro a private yacht gets you further from the human bustle and deeper into pristine wilderness, vastly improving the quality of bird spotting and nature watching. In the Tapajos region a charter affords access to your own remote private beaches far from the crowds and land-based tours to the popular Alter do Chao.
Yachts vary in size, ranging from three to 16 cabins and from expedition yachts perfect for navigating the myriad back channels and waterways, to 120ft superyachts. In addition to the sailing crew each cruise will include a multi-lingual tour manager, a professional naturalist guide and a full complement of chefs and cooks, ranging from big name Brazilian star chefs to great local cooks.
For those with some extra money to spend, this is the ultimate Amazon experience.
Click here to receive the complete ebook