The vast, steamy Brazilian Amazon is a region shrouded in mystery, and few first time visitors to the jungle really know what to expect from a trip here – expectations are often very different from the reality.
Although the jungle is home to some incredible creatures; including the jaguar, tapir and giant anteater, they tend to keep themselves to themselves and visitors expecting to encounter abundant large mammals will probably be disappointed. On the other hand bird watchers have a great deal to be excited about, thanks to the sheer number and variety of bird species that can be easily spotted in and around in the trees and waterways.
Another misconception is the thought of muddy waters teeming with piranha, caiman and other bloodthirsty beasts. In actual fact, parts of the Brazilian Amazon boast unique blue-water rivers with gorgeous white sand beaches that are perfectly safe for swimming and are as paradisiacal as any Caribbean coast.
That said, the famed piranha can be readily found elsewhere, and piranha fishing makes for a fun and popular activity. Culinarily-curious visitors should be sure to try piranha soup – it's a staple on many menus here.
The famed pink dolphins of the Brazilian Amazon are also a reality, and a trip of five days or more usually provides ample opportunity to spot them at play on the water. Grey dolphins, meanwhile, can be found in abundance and visitors may even find themselves swimming close to these beautiful but shy animals.
Many people imagine the Amazon as a place filled with swarms of mosquitoes. In fact large swathes of the jungle are almost mosquito-free, particularly in the dry season (see climate pX). Even in the wet season, a good insect repellent is all you need for a comfortable, bite-free trip (see recommended packing list pX). The beaches here actually have fewer mosquitoes than in Rio and elsewhere on the Brazilian coastline.
Don't expect to encounter a world of isolated indigenous communities, either – although some uncontacted tribes do still live in the Amazon, they are not only impossibly remote, but there are also strict controls in place restricting access to these tribes. Stay away from any operator claiming to offer access to 'uncontacted' tribes, as in reality such access is strictly prohibited.
However, some reputable companies can organise ethically-sound stays with tribes that continue to live much as they have done for centuries. It is vital to thoroughly research any company offering such stays and find an operator that is culturally rewarding for visitors and doesn't exploit host communities.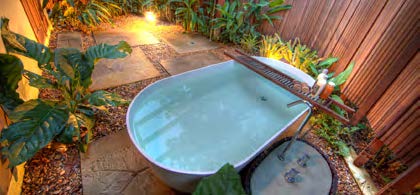 Another widely-held misconception about the Brazilian Amazon is that it is pretty much off-limits for families with young children. Fears about dangerous animals, stifling heat and biting insects can scare off cautious parents from even contemplating a trip to this vast rainforest, but in fact the Amazon can be an excellent choice for a family vacation with a difference.
The climate, while hot and humid throughout the year, is not as overbearingly stifling as many imagine. Temperatures tend to hover around 27°C and only rarely reach over 33°C- making it positively cool in comparison with cities such as Rio de Janeiro, where summer temperatures are truly searing – regularly reaching 40 degrees and above. In the Amazon, there is always fresh water at hand to plunge into and cool off.
The opportunity for jungle adventures make the Amazon a surefire hit with older children (see Px), and the beaches that emerge in high season are truly pristine, with calm, clear waters are perfect for swimming even with very young children.
Click here to receive the complete ebook