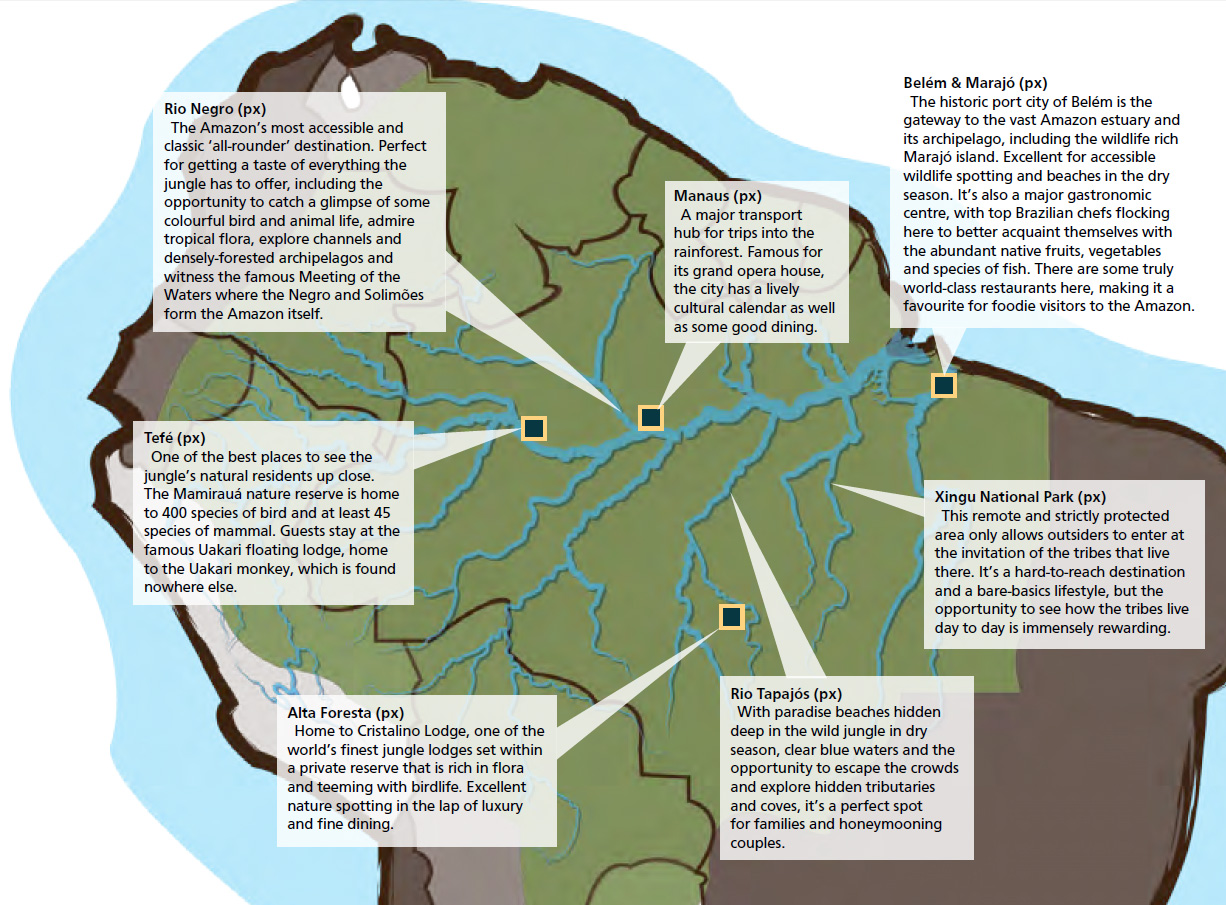 Rio Negro
The Amazon's most accessible and classic "all-rounder" destination. Perfect for getting a taste of everything the jungle has to offer, including the opportunity to catch a glimpse of some colorful bird and animal life, admire tropical flora, explore channels and densely-forested archipelagos and witness the famous "Meeting of the Waters" where the Negro and Solimoes form the Amazon itself.
Manaus
A major transport hub for trips into the Amazon. Famous for its grand opera house, and has a lively cultural calendar as well as some good dining.
Rio Tapajós
Paradise beaches hidden deep in the wild jungle. With clear blue waters, white sand beaches in dry season and the opportunity to escape the crowds and explore hidden tributaries and coves, it's a perfect spot for families and honeymooning couples.
Belém & Marajó
The historic port city of Belém is the gateway to the vast Amazon estuary and its archipelago, including the wildlife rich Marajó island. Excellent for accessible wildlife spotting and beaches in the dry season. It's also a major gastronomic center, with top Brazilian chefs flocking here to better acquaint themselves with the abundant native fruits, vegetables and species of fish. There are some truly world-class restaurants here, making it a favorite for foodie visitors to the Amazon.
Alta Foresta
Home to Cristalino Lodge, one of the world's finest jungle lodges set within a private reserve that is rich in flora and teeming with birdlife. Excellent nature spotting in the lap of luxury and fine dining.
Xingu National Park
This remote and strictly protected area only allows outsiders to enter at the invitation of the tribes that live there. It's a hard-to-reach destination and a bare-basics lifestyle, but the opportunity to see how the tribes live day to day is immensely rewarding.
Tefé
One of the best places to see the jungle's natural residents up close. The Mamirauá nature reserve is home to 400 species of bird and at least 45 species of mammal. Guests stay at the famous Uakari floating lodge, home to the Uakari monkey, which is found nowhere else.
Click here to receive the complete ebook