In this chapter:

Responsible travel
The Amazon's importance to the wellbeing of the planet cannot be underestimated, and this a region that needs to be treated with the ultimate respect. Sadly, many tour operators in the Brazilian Amazon do not operate in a sustainable manner, and many visitors are unaware of the importance of minimizing their impact on the jungle, its waterways and its inhabitants.
Be conscientious in choosing your operator, and be thorough in your research. Check out the operator's sustainability credentials, and don't be afraid to ask questions about their practices.
Before setting off read up on the areas you plan to visit – the local customs, traditions and etiquette as well as the jungle itself. Good operators will provide you with useful reading material prior to your trip.
Be conscious that the communities of the jungle are simply living their lives, and are not putting on a 'show' for visitors. Don't stare or take photographs without first asking permission, and remember that you are the visitor here.
Don't encourage a begging culture – it is better to donate supplies or money directly to a local organisation, school or other project that benefits the community at large rather than handing out cash to those who ask for it. Be polite but firm, and don't be tempted to hand out candies to children, as dental care in rural areas may be limited.
Don't encourage ill-treatment of animals by paying for photographs with captured animals, or visiting animal attractions where the creatures are not well-treated.
Avoid putting additional pressure on already-overburdened resources. Turn off the tap when brushing your teeth, keep showers short.
Properly dispose of all trash, and don't pick anything from the jungle without on the express advice of a responsible and knowledgeable guide.
Stick to the international Leave No Trace principles to minimise your environmental impact.
Climate and when to travel
The Amazon isn't called a rainforest for nothing: it rains here at least 130 days per year, with average annual rainfall of 2,300 mm and and humidity levels almost permanently above 80%.
But visitors are often surprised by the variation in precipitation and climate which can vary greatly by season and region.
The Amazonian "winter" or wet season, runs between January and June, and "summer" or dry season, between July and December.
In the northern Amazon – home to Santarem, Manaus, and other major destinations, it starts to rain in December and the rivers progressively rise until June, when the water is at its peak.
Rainfall averages veer between 300 cm per month in March and April, and less than 60 cm in August.
In the Southern Amazon, home to Alta Floresta, the rains can vary from as much as 442 cm in March, to less than 10 cm in July. Temperatures vary little throughout the year, hovering at around 30 degrees.
Travelling to the Amazon can be comfortable and hassle-free in both the wet and dry seasons, provided you come prepared for the climate (see Packing List, px).
Both seasons have their pros and cons, and choosing the best time to visit depends mostly on your preferred activities, interests and expectations.
The white sand beaches of Rio Tapajós (px) appear with the lower water levels during dry season, and this is arguably the best time for family travel.
The main advantage of traveling during the wet season is that the higher waters allow much greater access for canoes and small boats for wetland excursions. Rains tend to come in short, heavy bursts, so there will be plenty of dry periods for exploring even during the wet season.
Events & festivals
Be sure to book accommodations and travel well in advance if you plan to travel to Amazon during the high seasons of July-August, and December-January.
Carnival, whose dates move in accordance with lent, is low key here in comparison with destinations such as Rio de Janeiro and Sao Paulo, and the Amazon's biggest party is the Parintins Festival, in June. It's a colorful folk festival, and second only to Rio Carnival in scale and visitor numbers. The event takes place in a giant arena, slightly incongruous in the remote Amazon town of Parintins, and there are few luxury lodgings, but some cruises will include it in their itinerary.
Opera fans may want to be in Manaus during the city's April-June opera season, where there are some impressive shows at the iconic Teatro Amazonas.
Nature and wildlife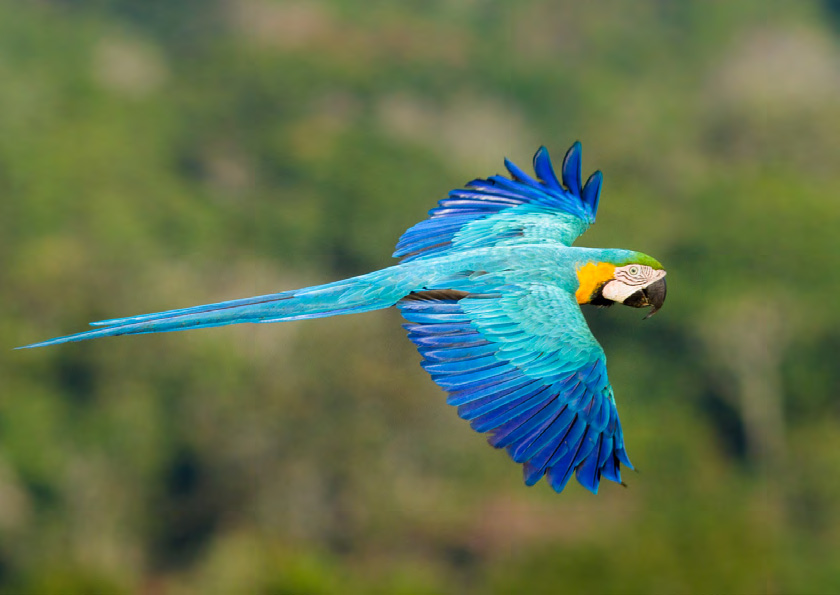 The wildlife of the Brazilian Amazon is more reclusive than you might expect and you'll be disappointed if you arrive expecting to see large mammals at every turn.
For nature lovers, the joy of the Amazon is in understanding the forest's nuances and learning where and how to spot its shy inhabitants. Patience is rewarded handsomely: allow your guide to teach you their behaviours and habitats and this universe of birds, monkeys, reptiles and countless species of marine animals will gradually reveal itself to you.
If wildlife spotting is your main draw, you'll need to sacrifice the beaches and crystalline waters of Tapajos: murkier brown waters attract more insects, which in turn attract every animal further up the food chain. The major tradeoff is that these waters aren't suitable for swimming – think piranhas and caiman – and that mosquitoes necessitate plenty of insect repellent and covering up any bare skin.
Generally speaking, the more remote the location, the better for spotting wildlife. The remote lodges such as Cristalino Lodge in Alta Floresta (px), and Uakari Lodge (px), in the southern region of the jungle, offer the chance for wildlife enthusiasts to venture far off the beaten track.
The Cristalino Lodge is a luxurious base from which to spot animals such as the Brazilian tapir – South America's largest land mammal, and capybara – the world's largest rodent – which can commonly be seen grazing along the river banks from July to October. Giant river otters can be spied (or at least heard) splashing in the water as they hunt for fish.
There are many species of monkey in this southern region of the Amazon, too, with howler monkeys and capuchins the most easily sighted, although visitors may be lucky enough to catch a glimpse of the endemic white-whiskered spider monkey, or rare silvery marmoset.
Collared anteaters, three-toed and two-toed sloths also inhabit the area, although they only occasionally reveal themselves, while encounters with big cats such as jaguar, puma and black panthers are rare but not unheard of. Although you're highly unlikely to find yourself face to face with a big cat, at the very least your guide might help you identify paw prints and other clues to their presence.
The famous Uakari Lodge, over an hour's boat ride from the Amazon town of Tefé, offers fewer creature comforts, but entices nature lovers with its prime location in the heart of an ecosystem that is bustling even by Amazonian standards. Located in the vast Mamirauá nature reserve, the waters here are home to one of the world's largest freshwater fish in the form of the piraruca (Arapaima), which can reach four meters in length. Once on the brink of extinction due to overfishing and habitat loss, numbers are now recovering thanks to a ban on commercial fishing.
There are hundreds of species of birds here, including the yellow-rumped cacique, several types of toucan, and hoatzin, notable for their spiky plumes. Cormorants and egrets frequent the riverside, while giant caiman slide beneath the surface of the water.
Most famous of the reserve's inhabitants is the Uakari monkey that gives the lodge its name. This rare red-faced monkey, endemic to the region, is somewhat elusive, but many visitors are lucky enough to catch a glimpse.

Recommended packing list
Expect to be a long way from stores, pharmacies and ATMs for most of your time in the jungle, and pack accordingly.
Essentials will include:
Any medications needed, plus surplus if possible.
A lightweight daypack for excursions.
Comfortable, lightweight hiking shoes. Ideally waterproof.
Camera, waterproof camera case and spare batteries.
A lightweight, foldaway rain jacket.
At least one fleece or warm sweater for cooler evenings.
Sandals for the beach.
At least a couple of changes of swimwear – bring protective clothing with sun protection for children.
Several changes of layerable clothes, including lightweight trousers and long-sleeved shirts to prevent insect bites.
At least one smart outfit for dining/nightlife.
Tropical strength insect repellent and repellent wrist bands for babies and young children.
Several pairs of cotton socks and underwear.
Sunglasses, hat and sunblock.
Spare contact lenses/glasses.
Post-bite cream.
Water bottles.
First aid kit, including essentials such as diarrhea tablets, paracetamol, band-aids, bandages, antiseptic, blister plasters and antihistamine cream.
Eating and drinking
The Brazilian Amazon is a dream destination for gourmands and those with a taste for culinary adventure. With so many types of fish, fruit, vegetables and nuts native to the jungle and its rivers, it's little wonder that many fine dining restaurants in Brazil and overseas have begun incorporating Amazonian ingredients such as acai berries, tapioca flour and cassava into their menus.
Visitors to the Amazon will be able to experience these ingredients at their freshest, cooked with flair and imagination by locals who really know how to maximise the potential of native ingredients.
Dining well doesn't necessarily mean formal dining – some of the most delicious dishes in the Amazon may be prepared by unassuming local restaurants, and there are some delicious street foods that will have visitors feeling saudades (a Portuguese word for a sense of longing for something or somebody) for a long time after they leave the jungle.
Chefs on board the best yachts will create culinary miracles with the riches of the river and the forest, while the handful of high-end lodgings in the Brazilian Amazon also use native ingredients to create a true fine dining experience.
One of your most memorable dining experiences will be enjoying a piracaia, a traditional fish barbeque on your own private Amazonian river beach.
Other highlights you cannot miss include maniçoba – a traditional dish made with pieces of meat, sausage, manioc, and chicory leaves, the delicious freshwater fish such as pirarucu – said to be the largest freshwater fish in the world – and of course piranha, which is delicious when grilled.
Smaller fish including curimatã and acari are typically grilled, fried, or baked with a brazil nut crust. When served in a tomato sauce the dishes are known as escabeche.
Energy-giving Amazonian fruits such as acai, guarana and cupuacu are pulped and turned into delicious juices and smoothies with a kick, and are also made into mousses and other tempting desserts, while simple root vegetables such as cassava are used to make everything from tapioca pancakes to butter-baked oven 'chips' and filling cakes enriched with coconut. The sheer variety of food on offer means that there are plentiful options for those with allergies or food restrictions, and high-end lodgings – as well as chefs aboard private yachts, are able to cater to most dietary needs and wants.

Useful phrases
Brazilian Portuguese can be tricky for foreigners to master, and local indigenous dialects make communication still more complex. But efforts to communicate in Portuguese will be warmly appreciated, and mastering even a few basic phrases will enhance your trip. Note that Brazilians don't take kindly to visitors trying to communicate with them in Spanish!
One thing to remember is that, due to masculine and feminine nouns and adjectives, some words differ according to whether the person speaking is male or female. For example, a male speaker wishing to thank somebody would say 'obrigado', and a female speaker would say 'obrigada'.
Hello - Ola
Hi - Oi
Good morning - Bom dia
Good afternoon - Boa tarde
Good night - Boa noite
Excuse me - Dar licenca
Sorry - Desculpe
Please - Por favor
Thank you - Obrigado (male speaker) / Obrigada (female speaker)
What time is it? - Que horas sao?
May I…? - Posso?
Nice to meet you - Prazer
My name is… - Me chamo…
What is your name? - Como se chama?
Food - Comida
Dish of the day - Prato do dia
I am vegetarian/vegan. - Eu sou vegetariano/vegano. (male speaker) / Vegetariana/vegana (female speaker)
Gluten-free - Sem Gluten
Where is the…? Onde fica o/a…
Where is the bathroom? -  Onde fica o banheiro?
Please may I use the bathroom? Posso usar o banheiro por favor?
I am feeling unwell - Estou passando mal
Do you have…(cold water)? - Tem…(agua gelada)?
I am looking for (a present)… - Estou procurando…(um presente)
What a beautiful view! - Que vista bonita!
Click here to receive the complete ebook